Use the equity from your motorbike to get same day cash. Qualify for a same day online title loan of up 5k!
Being faced with unexpected life events can be difficult. These financial emergencies can be stressful in today's economy. Although there are many ways to get the money needed (e.g., payday loans, cash advances at pawn shops, or credit card advances), there may be some downsides to each. A motorcycle title loan could be an option for someone looking to cash out equity with their bike!
Our motorbike title loans can be obtained without credit checks, provided you have enough equity in the motorcycle. We don't look at your credit score when offering these types of loans but instead focus on your motorbike's equity. With our vast referral network, you can be helped no matter where you live.
Easy and fast approvals are possible with Sunshine Title Lending when you have collateral to use as equity. Apply now to get your cash today!
What Is A Motorcycle Title Loan?
You can get a title loan on a motorcycle if the bike is paid off and titled in your name. The motorcycle needs to be in good condition and worth at least $2,000 to qualify, and you can't have any cosigners or liens on the bike's title. While it's easier to get a title loan on your motorcycle than a vehicle, you'll still need to sign over the title to your lender, as that's what is used as collateral for the loan.
Some companies will give you a title loan on a motorcycle if you still owe your original lender, but those types of loans are rare, and you typically need to have a bike that's completely paid off. That's because the title loan company will be added as a lienholder, and you need to sign over the bike to them. Loan amounts start at $1,000, and some companies can offer up to $6,000 for high value Harley Davidson bikes and those that are 2020 and newer.
The Sunshine Title Lending application process makes it possible to apply for motorcycle title loans online. We can evaluate the bike's value and offer you a fair loan in less than an hour. It doesn't matter if you're looking for an online loan in Florida or a secured loan in Georgia. We have you covered and know what's required for fast approval in every state! You don't need to go to a store to complete the loan process. 
Why Take Out A Loan On Your Motorcycle?
Motorcycle title loans are a straightforward way to borrow money without having to deal with a credit check. Even if you're dealing with loan defaults or can't prove your income, you can still qualify for a title pawn on your bike! Your motorcycle is the collateral for your loan and you will only have to give up its title as collateral. If the loan is not paid back as agreed, losing your motorcycle will probably be easier than your family vehicle.
Our terms are realistic, and we can get you a loan for any motorcycle with an equity loan of up to $5,000 in under 30 minutes. Apply online with us to get a same day funding estimate and we'll work to get everything processed and approved in 24 hours!
Ready To Get Approved For A Title Loan With No Store Visit? Contact Our Team Today!
Our lending experts are here to answer your questions and guide you through our online application!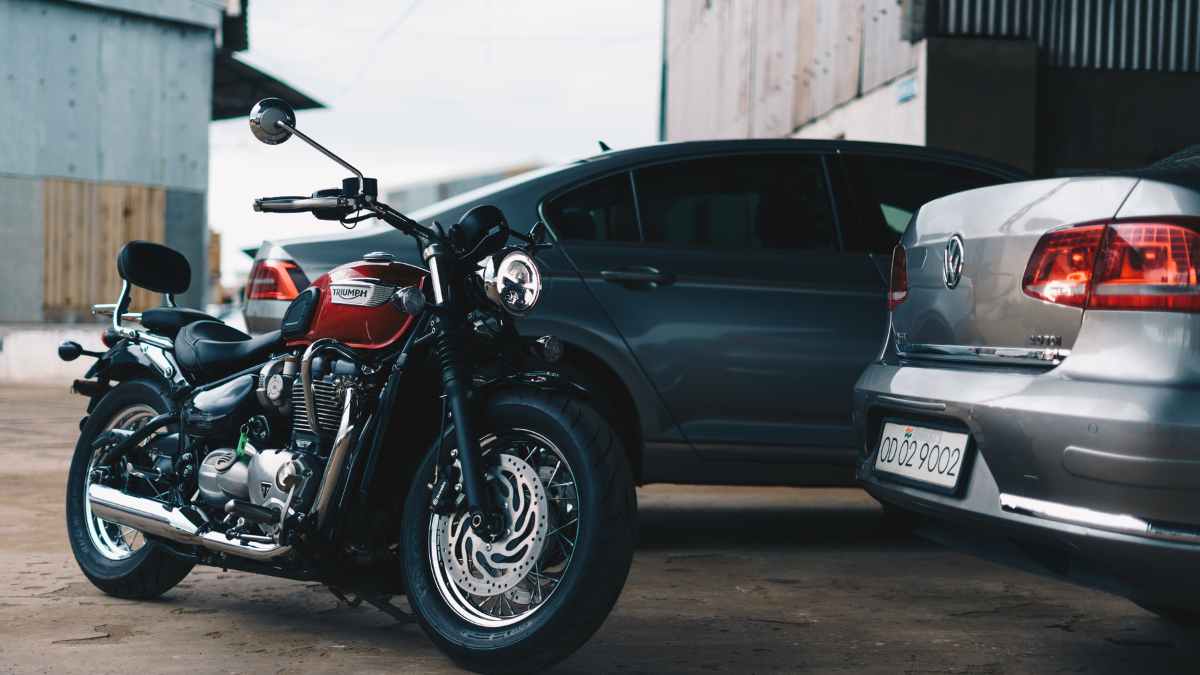 How to Apply for a Motorcycle Title Loan
Apply for a title loan on your motorcycle with Sunshine Title Lending, and you'll see it's similar to if you were looking for a car title loan. We only require a few documents. There's often no credit check, and you can be approved within one or two business days.
Once you've completed the paperwork, an experienced customer representative will review your motorcycle to determine enough equity to pay the loan amount. They will then verify your ability to repay the loan. You can then take your cash and keep your motorcycle.
We require specific information to obtain a loan for your motorcycle. This information includes:
Valid ID From The State Where You Apply
Documents that prove income include pay stubs (job letters, bank statements), unemployment or social insurance proof, and other documents.
Pink slip or ownership registration
Photo ID of proof of insurance
The application process takes only minutes and is stress-free. Call Sunshine Title Lending anytime during business hours to get started and see how much cash you can get with an instant approval motorcycle title loan!
Motorcycle Title Loans Versus Cash Advances Or Other Loans
Title loan companies are far more lenient regarding your credit history.
Motorcycle title loans can be obtained regardless of your credit score.
Spend your loan proceeds as you wish!
There are never any surprises or hidden costs with your loan agreement.
The process of applying with Sunshine Title Lending is quick and easy.
There is no need to sell your motorcycle at a pawnshop. 
It is easy to apply online. We need much less information than what a personal loan officer will ask for.
Low and competitive interest rates.
Your motorcycle's value determines your monthly payment and loan amount. You may get a same day cash advance loan, but that can be thousands more. Lenders can have different guidelines about which motorcycles are eligible for loans and the maximum loan amount.
Usually, cash can be received within minutes of filling in an application. Your motorcycle title is the only collateral required.
Motorcycle inspections are less time-consuming than those for car title loans. Sometimes, the inspection is not necessary. 
Although motorcycle title loans carry a higher interest rate than those loans that require more extensive applications, the APR is still lower than most payday loans. There is less chance of you being stuck in the cycle of applying each month for a loan.
You Dont Need Good Credit To Get A Motorcycle Title Loan
Sunshine Title Lending knows that many borrowers have issues with their credit score. You should be able to qualify with just the pink slip from your motorbike and proof of employment! There's no need for a credit check!